Painties are custom designs that players can upload to customize the look of their villagers. Painties can be simple recolours of the existing Furvilla species base, or they can be line-modified ('edited') ones. No matter how many changes are made to a base in a single paintie, the price to upload one file is

250.
Paintie uploads are all pre-moderated by Furvilla staff to ensure compliance with the paintie rules. If an uploaded design is rejected the FD will be returned to the user so that they may edit their design into compliance and attempt to upload once more.
Paintie Rules
1: PAINTIES MUST USE A BASE OF THE VILLAGER THEY ARE OVERLAYING
You may notice there are a lot of different bases that Furvilla provides for an individual species. You are welcome to use any of the primary bases that exist within that species. For example, if you have a cat villager, then the base you must use to create your Paintie is one of the cat villager bases. The "basic" cat and the super-fluffy Pallas Cat have very different looking bases, but you can still choose one of them or another cat base as long as your villager is any cat. You can not, however, choose a dragon base to upload onto your cat villager.
Note that if you create a "silhouette" villager, or one where most of the internal lines are not distinguishable, it can be rejected for not matching the base, as well. Be sure that some lines are still visible inside the image.
If your Paintie does not follow this rule, you will receive the rejection notice "This does not use the base of the villager it overlays."
2: PAINTIES MUST MATCH THE SPECIES OF THE VILLAGER THEY ARE OVERLAYING
This rule means that if your villager is a cat, then your Paintie must be a cat or have a significant amount of cat features if the paintie is a hybrid or has unusual or non-animal features. While rule #1 ensures that a villager's species is not changed by use of a different base, this rule ensures a villager's species is not changed through editing of the lineart.
In some cases Furvilla is lenient with species changes if a base is not yet available for that species, or if the species change is similar enough to the base. For example, some players have altered the deer base into a goat because Furvilla does not have a goat base yet. Because the players are keeping the face of their Paintie substantially similar to the deer face, their Painties are accepted.
Tip: If you want to avoid any issues with this rule when you're submitting a hybrid that has a lot of different body parts from another species, be sure to keep the facial structure of the villager mostly unaltered. We determine species often from the shape of the face--the nose, eyes, and mouth. Alternatively, if you edit the face, keep the body species easily distinguishable. Editing the face as well as adding a lot of parts from other bases will most likely result in a rejection.
If your Paintie does not follow this rule, you will receive the rejection notice "This does not match the species of the villager it overlays."
3: PAINTIES MAY NOT USE PARTS FROM RARE SPECIES OR COSTUMES
While it is perfectly acceptable to cut parts from other primary species bases to add to or modify your paintie, parts cut from rare species or costume bases can NOT be spliced onto other bases. Both rare species and costumes require a lot of effort to collect, which makes it unfair to players who have done the work if others are able to achieve a similar look by purchasing a paintie.
The rare species of Furvilla are: Dutch Angel Dragon, Manokit, Wickerbeast, and Gembound. Costumes include bases such as the Mythic Fox, Sorcerer Wolf, and so forth. These bases can be modified and uploaded onto a villager who matches the base, but their parts can not be used in any other painties.
If you're designing a Paintie for a rare species or a costume, you are welcome to put "basic species" body parts onto it. Therefore, you're allowed to put a fox tail onto a Manokit, but you couldn't put a Manokit tail onto a fox. Similarly, you could place a fox tail on a Sorcerer Wolf, but you could not put an Aquatic Wolf tail on a Sorcerer Wolf.
If your villager is wearing a costume but you would rather use one of the primary species bases instead, this is permissible as long as no costume pieces are used on the paintie.
Tip: A costume base can be edited with basic species parts, but not the other way around. When splicing basic parts onto a costume, make sure your paintie is majority costume base (over half) or consider starting with a primary species base and drawing on clothes, instead.
If your Paintie does not follow this rule, you will receive the rejection notice "This Paintie makes use of the artwork for a rare or costume base."
4: PAINTIES THAT REDRAW THE BASE MUST FOLLOW THE LINES AND SHAPES ACCURATELY
There is no rule against players redrawing the bases, such as to give them a different shading style, or to give them thick, solid lines. However, Furvilla Staff must still be able to distinguish the base that the Paintie came from. As a result, if you want to redraw the base, be sure to keep your line work substantially similar to the existing linework of our bases. If the shapes and lines are so different that we can't tell it was created from our bases, the Paintie will be rejected.
If your Paintie does not follow this rule, you will receive the rejection notice "This does not match the base of the villager it overlays."
5: PAINTIES MAY NOT INCLUDE NIPPLES
Due to our website being PG-13, we do not permit Painties to feature nipples, whether the nipples are covered in fur or implied under a piece of clothing. We allow you to draw breasts on your villagers as long as the nipple rule is followed. A good rule of thumb is to imagine a child's doll - these often have breasts that are not sexualized and are appropriate for children to view.
Note that Furvilla Staff reserves the right to reject a Paintie if we feel that the inclusion of breasts has been drawn to reflect fetish/sexual material.
If your Paintie does not follow this rule, you will receive the rejection notice "This Paintie includes the appearance of nipples. Please remove the nipples before resubmission."
6: PAINTIES MAY NOT INCLUDE SEXUAL CONTENT
Furvilla is a PG-13, Safe For Work website, and, as a result, we do not permit sexual content on our website.
You may not upload a paintie that includes a bulge to imply the appearance of genitalia, outlines of genitalia against clothing, outlines of nipples, or sexual accessories. Examples of accessories that may not be included on Furvilla Painties are: bondage (including bondage rope and bondage chain), sex toys, paddles, gags, handcuffs, crops, floggers, collars with leashes, and diapers.
In some cases harnesses are allowed, but only on animals that would normally wear them, such as sled dogs, service animals, or horses. However, the harnesses must match the type of harnesses that real life animals wear, and not resemble fetish gear.
If your Paintie does not follow this rule, you will receive the rejection notice "This Paintie contains prohibited sexual content. Please remove the sexual content before resubmission."
7: PAINTIES MAY NOT INCLUDE COPYRIGHTED OR TRADEMARKED CONTENT
This rule has two parts: first, Painties should not be designed after or include any copyrighted characters or accessories from any type of media. Do not design Painties with the intention of having them look like something that does not belong to you. Painties should also not include any logos.
The second part to this rule is that players are not permitted to include content in their Painties that they did not create and do not have permission to use. This includes: backgrounds from websites, "stamp" brushes not created by the player, texture overlays not created by the player, premium fonts or fonts downloaded from the internet.
If your Paintie does not follow this rule, you will receive the rejection notice "This Paintie contains potential copyrighted content. Please remove the copyrighted content before submission."
8: PAINTIES MUST BE RESIZED TO 400 PIXELS HEIGHT FROM THE BASE DOWNLOADED, WITHOUT ALTERATION TO THE SPACE AROUND IT
Do not alter the amount of space around the base either by resizing the base within the canvas or changing the dimensions of the canvas itself. This will cause you to have an issue with your base not lining up with our originals, and your Paintie will be rejected for improper resizing. Note that you CAN expand the width of your paintie to 600 pixels if you desire additional room to draw on your canvas. However, 600 pixels is the maximum width allowed.
To resize your Paintie properly from the original large base, use your artwork program to change the height to 400 pixels while having the width scale along with it. This will provide you with a perfectly resized paintie.
If your Paintie does not follow this rule, you will receive the rejection notice "This Paintie appears to have been resized incorrectly. Please ensure your submission is exactly 400 pixels high, and no wider than 600 pixels width."
9: PAINTIES MAY BE FLIPPED TO FACE THE OPPOSITE DIRECTION, BUT THEY MAY NOT BE ROTATED
Players are welcome to flip their Painties to face the other direction horizontally. However, they cannot be tilted, turned upside down, or caused to lay sideways on the canvas. The only orientation alterations we allow are mirror flipping.
If your Paintie does not follow this rule, you will receive the rejection notice "This Paintie has had its orientation changed. Please ensure the Paintie is upright and facing either left or right."
Coloring Guide
To color your own paintie, you will need an art program that handles layers and a basic understanding of its tools. The most common programs used are Photoshop and Paint Tool SAI. There are a few free programs that can handle layers, including GIMP and Krita.
Kiwiggle's Guide
Kiwiggle, the villager artist of Furvilla, created a guide for coloring the greyscale bases that are used for painties.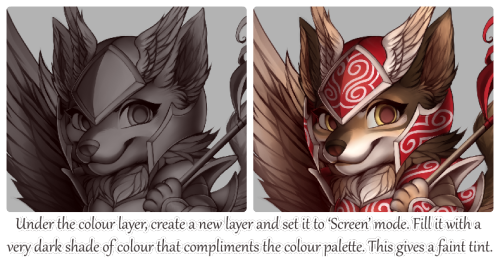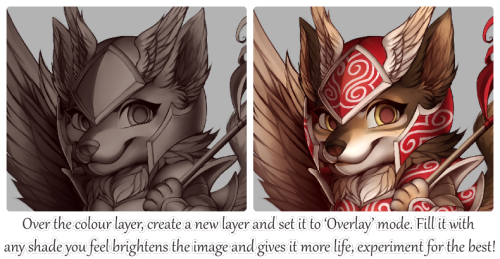 Once you are finished coloring your paintie, you have to scale the image to be exactly 400px tall and no wider than 600px. To ensure that your paintie has a clear background (not white), save your image as a PNG. For some programs, such as SAI, you may have to select "save each pixel's opacity" while saving. If your image complies with all of the paintie rules, you are now ready to upload your custom design.
Should you have any questions regarding Furvilla species or bases, aim them at Kwiggle's Furvilla art tumblr(source).
Shelby's Photoshop Tutorial
Alternatively, Shelby(user:Birdman) has created a tutorial that is more complex, but allows for more color variances in the shadows using input levels and gradient maps on Photoshop. Other programs may have these features, but this tutorial is written with Photoshop in mind.
View the tutorial on the Furvilla forums.
Bases
Official greyscale bases for each species can be found on their Villager page, including costume bases.
You can also find user-made free to use bases in the Free to use Paintie Base Edit Database thread.

Ad blocker interference detected!
Wikia is a free-to-use site that makes money from advertising. We have a modified experience for viewers using ad blockers

Wikia is not accessible if you've made further modifications. Remove the custom ad blocker rule(s) and the page will load as expected.